Local CFA firefighter David Tree shares his water with an injured Australian Koala at Mirboo North after wildfires swept through the region on Monday, Feb. 9, 2009. Suspicions that the worst wildfires ever to strike Australia were deliberately set led police to declare crime scenes Monday in towns incinerated by blazes, while investigators moving into the charred landscape discovered more bodies. The death toll stood at 181.(AP Photo/Mark Pardew)
SYDNEY (AP) — It was a chance encounter in the charred landscape of Australia's deadly wildfires: A koala sips water from a bottle offered by a firefighter. David Tree
This evening as I write the body count has slowed down in Australia . Now standing at 181, but a report on Fox mentioned that as many as 80 are missing. The fires however are still burning. Last figures I saw were 2 days ago, and the area burnt was at
1,300 Square Miles
. These fires were predicted now for 25 years, and we see them all over the world now :
Tundra fire on the North Slope of Alaska August 2007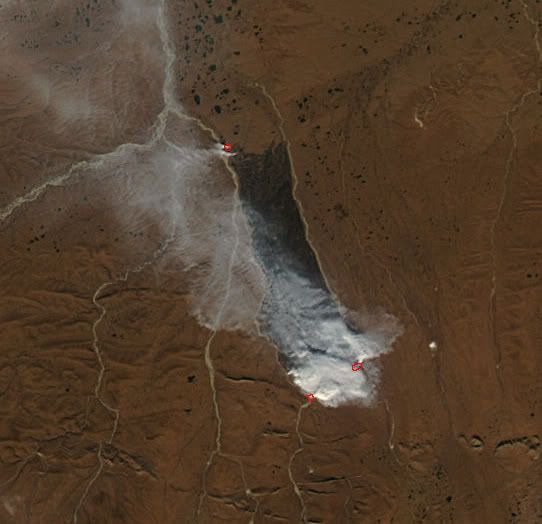 NASA Image
Just in the last 3 years we have seen these Mega Fires sweep across hundreds of thousands of acres in just 24 hours all over the world. Conditions like in Australia last Saturday. The flames were 4 stories tall, and embers were landing 25 miles down wind from the fire front.
From California, to South Africa, from Texas to the Azores, from Utah to Greece. from Idaho to Italy, Spain, Oklahoma, ....... All of these places have burned their way into the record books. They all share common themes now, first the people on the ground no matter where they are all have a common quote :
We've never seen conditions like this before.
It was 117 in Melbourne last Saturday, when this storm blew-up. It had been 114 for several days before the storm really got going. When Utah burned 300,000 acres in 24 hours two summers ago, it's no accident that July 2007 was not only the hottest July on record, but the hottest month ever recorded in that state. It had been 114 in Athens, when the terrible fire storms swept Greece the next month in that year.
So the next time you hear someone say :
We've never seen conditions like this before.
Remember we have seen this before, these events were described , and even named over 2 decades ago. They're called Mega Fires, and they follow on the heels of relentless heat and strong, dry, gale force winds. It sucks the water out of every living thing. From there it's just a question of where ignition occurs.
ARSON is unlikely to be the cause of most of the bushfires that ravaged Victoria on Saturday, including the deadly Kinglake complex blaze, according to a special police taskforce. ............ which was announced yesterday to investigate the causes of the fires, had divided the bushfires into six regions, only one of which was now being treated as suspicious.
Arson unlikely in most of the fires, say police
Climate models based on figures from the Intergovernmental Panel on Climate Change predict more frequent - and more extreme - fires for southern Australia over the next few decades. Yet the role of climate change in recent fires has been downplayed, suggests John Handmer of the Bushfire Cooperative Research Centre at RMIT University in Melbourne.
Climate models predicted Australian bushfires
February 11 -
There is one thing that we haven't seen before however, the image of David Tree and a Koala that Australia now knows as Sam.
If you wish to donate to the fire victims. Here's the Australian Red Cross site :

Victorian Bushfire Appeal 2009